Login
新闻
INTERNATIONAL TOURNAMENT RADIKALDARTS 2019
We are almost getting to the opening ceremony of one of the biggest darts shows of the year: The International Championship of RadikalDarts - PLAY UNLIMITED!
LLORET DE MAR (SPAIN)
The city of Lloret de Mar (SPAIN) awaits us from the 4th to the 7th of April in the excellent facilities of the Hotel Evenia Olympìc Garden, a great opportunity to sleep and play in the same hotel. If you have not yet made your reservation you can do it directly through its website:
http://eventos.eveniahotels.com/radikal-darts/
Or contact the following travel agencies:
- VIAJES DAIA: jordi@daia.es - Ph: +34 972 631 512
- TRAVELTEC: jordi@traveltec.info - Ph: +34 972 363 111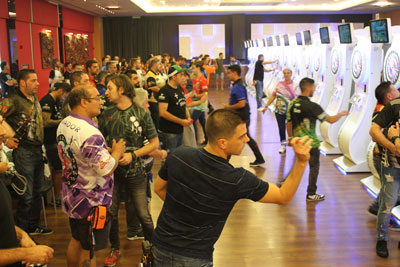 ENTRIES: Through your operator and before MARCH 22nd.
PROGRAM:
Thursday April 4th:
12:30 h. - Open Cricket.
17:00 h. - Flag Parade & Selections Championship.
Timbas Radikal.
Friday April 5th:
09:00 h. - Singles.
19:00 h. - Women.
20:00 h. - Junior Sub-16.
Timbas Radikal.
Saturday April 6th:
09:00 h. - Teams
19:00 h. - Mixed Triples.
Timbas Radikal.
Sunday April 7th:
RadikalDarts, the Best electronic dart machine of the World!!
International 2019 Flyer

International 2019 Rules
Radikal Players 飞镖玩家最佳虚拟社区